SEO Glossary of Terms
A
B
C
D
E
F
G
H
I
J
K
L
M
N
O
P
R
S
T
U
V
Adwords
Adwords is where you pay Google to place your listing at the top or side of the search results. refer to Organic result
Backlinks
Backlinks are simply inbound links into your website from other sites.

Bounce Rate
Google Analytics describe bounce rate as "Bounce Rate is the percentage of single-page visits (i.e. visits in which the person left your site from the entrance page)."


Sometimes this information is not available for example some stats packages will give you a visitor duration figure that can be a form of bounce rate.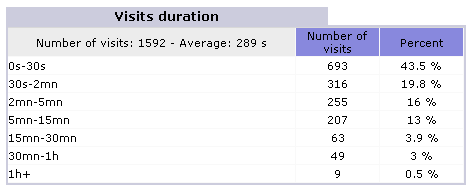 Hence in the above stats 43.5% of visitors left within 30 seconds.
These figures are always relative and numbers should vary depending on the type of site.
For example if a site is getting a broad set of hits on keywords the bounce rate will be higher - but you are still getting more visitors with good SEO.
Browser

Firefox, Internet Explorer, Safari and other browsers are used to display web pages on computers and smart devices.
Content
Good SEO Content includes-:
News Articles (Blogs)
Images
Audio
Video
Conversion Rate
Conversion rate is the rate of sales or effective contacts per visitor. Hence a well designed site may convert 1 in 20 visitors and a poor or more diverse site may convert 1 in 200 visitors.
Domain Name
Domain names eg www.GoldCoastLogin.com.au are essentially server addresses that point to where your website is located. .com.au domains have specific rules goverened in Australia.
Managing your domain name and its renewal is very important. The domain name should always be in the business entities name (not your web developers).
Currently there appears to be little reason to have numerous domain name unless you wish to not allow those names to be available to others.
HTML
HTML is the code that sits on the server and when opened in a Browser displays the page online. Almost every page's HTML can be viewed on your browser i.e. you can actually view the code written by the developer.
Keywords

Keywords are the words you target in Google for your site. Hence if I wanted to come up highly in Google on SEO Gold Coast - those words would be called my Keywords.
Google Analytics has a field called Keyword under the menu Traffic Sources> Search> Organic
Other stats packages may call these Search Keyphrases
Link
A link or hyperlink is how one page comes up when something is clicked on another page. They are coded into the site. Links are a valuable commodity for advancing a site in Google. Learning how to create quality links pointing to your site is a very important SEO factor.
No Follow Link
A link or hyperlink that does not pass on PageRank value and indicates to search robots not to follow that link as they crawl the web. These are used in Facebook and Twitter automatically for links. Part of the reason for this is that if these links on popular social media sites did add SEO value it would be chaos with spammers constantly creating fake accounts in an attempt to add value to the sites they link to.
Social media can be used for SEO value but not by adding spammy links to fake posts on non poular sites.
rel="nofollow" is added to a link.
Organic
Organic Search refers to a search result that is not paid for via a system like Adwords. The result is there because Google considers the page to be popular.
Server
A server is a computer often running a Linux operating system primarily used to display web pages. They are pretty much the same as a normal computer but are configured to server up web pages over the Internet.
Spam
Spam in SEO terms is referring to a spammy site or a spammy link. Google engineers spend vast amounts of time creating algorithms to weed out spam and spammy sites. An example of a spammy link would be a page on a forum where a person adds an entry purely to contain a link to their site in the hope of improving results in organic searches.
Speed
Site speed is increasingly important for higher rankings.
1. Google will crawl your pages easier
2. It naturally ranks sites higher because the user experience is better.

Beware of open source sites created by inexperienced developers Many open source systems are penalised (in my opinion) because each page loads many plugins. These plugins come with libraries of scripts that are used for extra "cool" functionality. Unfortunately there is a big difference in size between a custom javasript and one that is used for many functions. In many cases I see sites that are reloading these scripts on every page including pages that are not even using that functionality. Hence you can see sites that look great but run very slowly and do not do as well as a truly custom optimised site. This also allows web developers to look like they can create effective sites - but in fact are creating ineffective bloated slow sites from a template - and unfortunately many of these go on to claim to be expert SEO's.
Validation
Creating clean code is a very important factor hence having a site validated by W3C is regarded highly by Google - this naturally increases Site Speed. Validation means that the site follows standards - hence when a new device is created even devices we have not thought of yet having valid code means the device will display your code properly if it is compliant with standards.

How can you tell if your site is valid and has clean code?
You can look at the code by right-clicking and choosing view source and you can copy and paste that code into the validator to see if the code validates to standards.
---
I have kept this glossary simple to cover terms that are most often used and beneficial for a clients to get a quick understanding of the SEO jargon. Part of my SEO techniques is to teach my clients as much as possible to help them self promote their sites.