SEO Gold Coast
We are Gold Coast SEO experts servicing locals and beyond. Our approach uses our 20+ years of web development to your advantage.
High value SEO services is our specialty - when you work directly with a skilled developer your site responds much more swiftly without a bloated price tag.
We consistently achieve successful results for long-term clients who pay only $200 per month and stay at the top of searches on competitive keywords.
How much Return on Investment (ROI) would a $200 per month spend get for your business?
With SEO the challenge is finding the niche advantages for your business against ever present competition. Our policy is to take on only one client in a specific business or service category - so you would probably prefer not to be the one competing against us. Our vetting process contributes to our overall success. We are also not big on wasting our client's time on flowery reports. Our SEO results speak for themselves through empirical data outcomes.
We are considered to be better at SEO than just about anyone else on the Gold Coast for the following reasons -:
We have been doing it longer (having started before Google existed)
We do the work ourselves (no outsourcing)
Focus on innovation rather than cheap (or expensive) tricks
Anticipate and evolve with Web Development and SEO changes
The best predictor of future success with SEO is past success
We have many long-term clients achieving and maintaining success
Our prices are lower than many Gold Coast SEO company's because we are far more effective at SEO.
A competitive advantage for Gold Coast SEO
Our prices are lower than many Gold Coast SEO company's because we are far more effective at SEO. We develop our own systems back-end to front-end designed to improve our clients sites cost effectively.
The only way to compare the effectiveness of an SEO is to look at results over time in comparison to the amount paid for SEO. We have detailed histories of our successes you can view.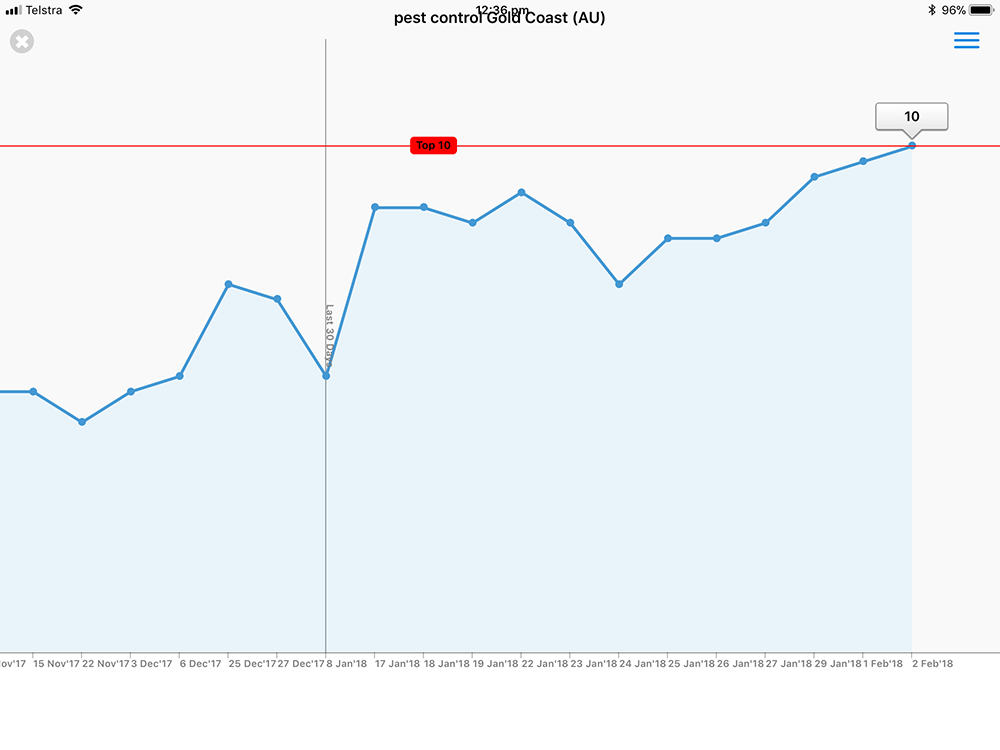 We have 17 websites and over 1000 blogs. That gives us a competitive advantage.
SEO SWOT Analysis
Examining your Strengths, Weaknesses, Opportunities and Threats in terms of a matrix is a decision-making tool used in many businesses and business schools. We produce an SEO SWOT Analysis in our 10+ page analysis of your site. Being developers since 1996 from server - development - video - apps specialising in marketing we will be able to anaylise your site. We will get you to the top of Google and keep you there.

If you scroll down you will see an example of our Facebook App that can turn your Facebook posts into SEO content.
SEO Efficiency
Our overheads and costs are lower than less experienced competition because we are more efficient. As Web developers since 1996, we employ specific techniques to enhance efficiency for us and our clients. Why pay $500 - $2000 per month when we often get better SEO results for $200 per month through our local Gold Coast SEO service.
SEO Enhancing Techniques
We develop a variety of SEO enhancing techniques - for example, below is a Facebook App we have developed that connects to our Facebook posts and turns them into on-page SEO enhancing content.
Free Hosting and Updates
For clients using our systems we offer -:
Free Hosting
Free Website Updates
Help Setting Up Email
Google loves frequent updates so we work with our clients to ensure there are no hidden charges. Using systems we have developed in-house allows for faster updates and lower costs.
Why a Multi-Skilled SEO offers better value

Posts from our Facebook App
SEO that will not bankrupt your business
A Gold Coast SEO and Web Developer